Most people know...
Vitamin C helps your immune system by making sure it's functioning properly, but what you probably don't know is that it actually plays a far bigger role in overall health.
We all remember our mothers nagging us to take that orange pill- Vitamin C research has been around a long time. 
So what can we do about it?
We know nutrition is a confusing field, we are always being told in the media that you're not getting enough of this and avoid that. It can get really overwhelming and confusing. 

We like to keep things simple here and as always share the truth.
We've compiled what we believe to be the most important reasons why you need enough Vitamin C and have included some quick wins you can begin to implement today on how to go about it ... read on!
Four essential reasons why you need Vitamin C 
1.
Vitamin C Protects Cells From Oxidative Stress (think antioxidants) 
Your body doesn't produce it, so it's absolutely essential that you get it from your diet or in supplement form. Vitamin C helps protect cells from oxidative stress which makes them a great antioxidant. The RDA of vitamin C for adult men is 90mg and for adult women is 75 mg. 

Oxidative stress is an imbalance between antioxidants and free radicals in your body. We've heard a lot about free radicals but what are they? They are oxygen-containing molecules that have an uneven number of electrons. This allows them to react really easily with other molecules, which can cause large chain chemical reactions in your body. Free radicals can build up inside the body and contribute to the development of more serious health conditions. 

These reactions result in what is called oxidation, and this can be either beneficial or harmful for your body. Antioxidants are molecules that can donate a free electron to free radicals without making themselves unstable, which causes the free radicals to become less reactive and more stable.


Vitamin C is one of these antioxidants that can protect against damage caused by free radicals, as well as toxic chemicals and pollutants like cigarette smoke.
2.

It Contributes to the Normal Function of Your Immune System 




When you start feeling under the weather, it's second nature to reach for supplements and foods high in vitamin C. Rich in antioxidants, the immune-regulating benefits of this powerful vitamin have been well-documented. In fact, a weakened immune system is one of the hallmark signs of a vitamin C deficiency.
3.

It Contributes to Regular Collagen Formation for Your Skin

No one wants to get wrinkly before their time right? Well, it turns out that Including plenty of vitamin C foods in your diet can help keep your skin glowing and healthy. 
A major study published in the American Journal of Clinical Nutrition looked at the diets of over 4,000 women and found that consuming more vitamin C-rich foods was associated with a lower risk of skin wrinkles and dryness. There is also some evidence that using a topical vitamin C lotion could decrease the amount of skin redness following UVB exposure, and may decrease sunburn cell formation by up to 60%.
Part of the reason vitamin C foods can be so beneficial for skin is that it's needed to form collagen, an important protein used to form the skin, tendons, ligaments and blood vessels. Collagen is especially important to skin health. Since Vitamin C contributes to normal collagen formation, it permits wound healing and scar tissue formation. One study from the University of Kiel in Germany even found that collagen could help maintain skin elasticity and moisture[1], so it's essential that you get enough.
4.

Improves Iron Absorption





Iron is vital to many aspects of health. It's a major component of the hemoglobin found in your red blood cells and can help supply the cells throughout your body with oxygen. 




Consuming vitamin C foods alongside iron can help your body absorb iron and help prevent iron deficiency. In fact, one study found that taking 100 milligrams of vitamin C with a meal increased iron absorption by a whopping 67%.
That's why we're excited about Vitamin C!
For peace of mind, we think it's a good idea to have a high-quality supplement handy, none of us are perfect and our diets and lifestyle fluctuate so much from one week to the next. 
It's normal to not be on top of your diet 100% of the time, we get it, you're busy,  which is why we created our fully upgraded liquid supplements. 
Our Vitamin C is completely natural, and water-soluble ensuring maximum absorption for the best possible results.
That aside it's so versatile and tastes delicious. You can even add it to your favourite milk to create a healthy milkshake.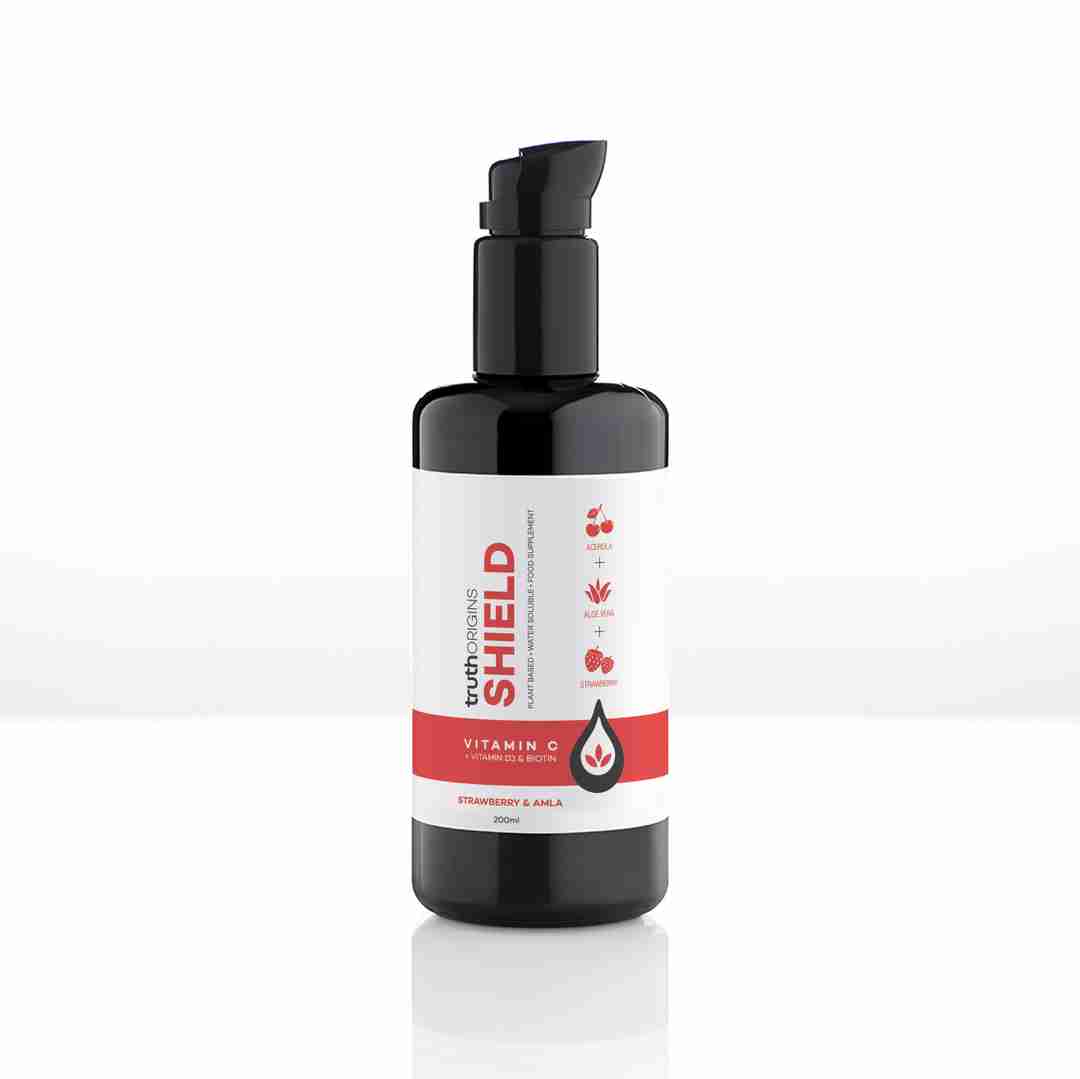 [1] Pullar JM, Carr AC, Vissers MCM. The Roles of Vitamin C in Skin Health. Nutrients. 2017;9(8):866. Published 2017 Aug 12. doi:10.3390/nu9080866