Before you choose a turmeric or curcumin supplement, ask these 4 questions:

Question 1. 
Is it Turmeric or Curcumin? 
While turmeric is the plant that all curcumin comes from, curcumin comprises an extremely small (less than 2% and sometimes undetectable) proportion of turmeric [14].  Since curcumin is the primary biologically-active compound contained in turmeric, it makes better sense to find a curcumin supplement.  There's no question that turmeric is much cheaper than curcumin, but gram-for-gram you'd need to consume 50 times turmeric to achieve an equivalent 'dose' of curcumin.  So-called "standardised" turmeric supplements are marketing spin.
Question 2.
Has anything been added to the supplement?
This is something of a loaded question. If nothing's been added, that's great in that "nothing's been added".  Unfortunately, whether the supplement contains natural turmeric or curcumin, its absorption into the bloodstream ("bioavailability") remains dismally low without the addition of certain compounds, such as piperine. Pepper spice extract (containing Piperine) increases absorption of curcumin by a factor of 20 [15]. 
It's worth pointing out, of course, that 20 times 'not much' is still 'not much', which is why the form that the supplement comes in is so important (see Question 4, below).  Another ingredient used to improve bioavailability is green-tea extract [16]
(and vice versa actually!), which has antioxidants that can complement the natural antioxidant activities of curcumin. Green tea extract itself contains certain polyphenols which as reported in the scientific literature, promote body fat loss [17]
Question 3.
Is it natural or synthetic curcumin?
When it comes to curcumin supplement companies, there appear to be two schools-of-thought.  Those that embrace the challenge of extracting a difficult-to-extract natural compound in curcumin, and those that produce synthetic derivatives of curcumin - otherwise known as tetra-hydrocurcurmin (THC).
The process of preparing THC from turmeric is very similar to the way in which margarine is produced through the chemical hardening of butter fat. THC itself still has extremely low bioavailability[18] so supplement companies improve this by disperse the THC in oil capsules.  In this type of preparation, THC particle size remains on the order of hundreds of microns (which is about a thousand times too large to be absorbed quickly and effectively, see Question 4).  
The other relevant point to make on the topic of THC is that, there have not been any clinical trials performed using this agent (unlike natural curcumin which has been subjected to about 150 human clinical trials.
Question 4.
What form does the supplement come in?
As mentioned above, most turmeric and curcumin supplements are so poorly absorbed that even after taking a spoonful of it, it barely shows up in the blood.  For instance, when people take up to 2g of a typical powder curcumin supplement, curcumin is either unable to be detected in the blood or shows up in extremely low concentration[19]. 
Several human studies have used doses of 8g per day, which still resulted in only a very low concentration in the blood[19].  For this reason, you're best to avoid powder supplements.  This leaves the choice of oil capsules containing THC or liquid curcumin, as produced by Truth Origins.  In developing their patented Liquid Curcumin (water soluble) formulation, Truth Origins scientists ensured that curcumin particles remained small enough for transport across the wall of the gastrointestinal tract [20].  Powders and hard fat emulsions, have particle sizes on the order of 8000-1000 micron which makes it far more difficult for the curcumin to reach cells within the body.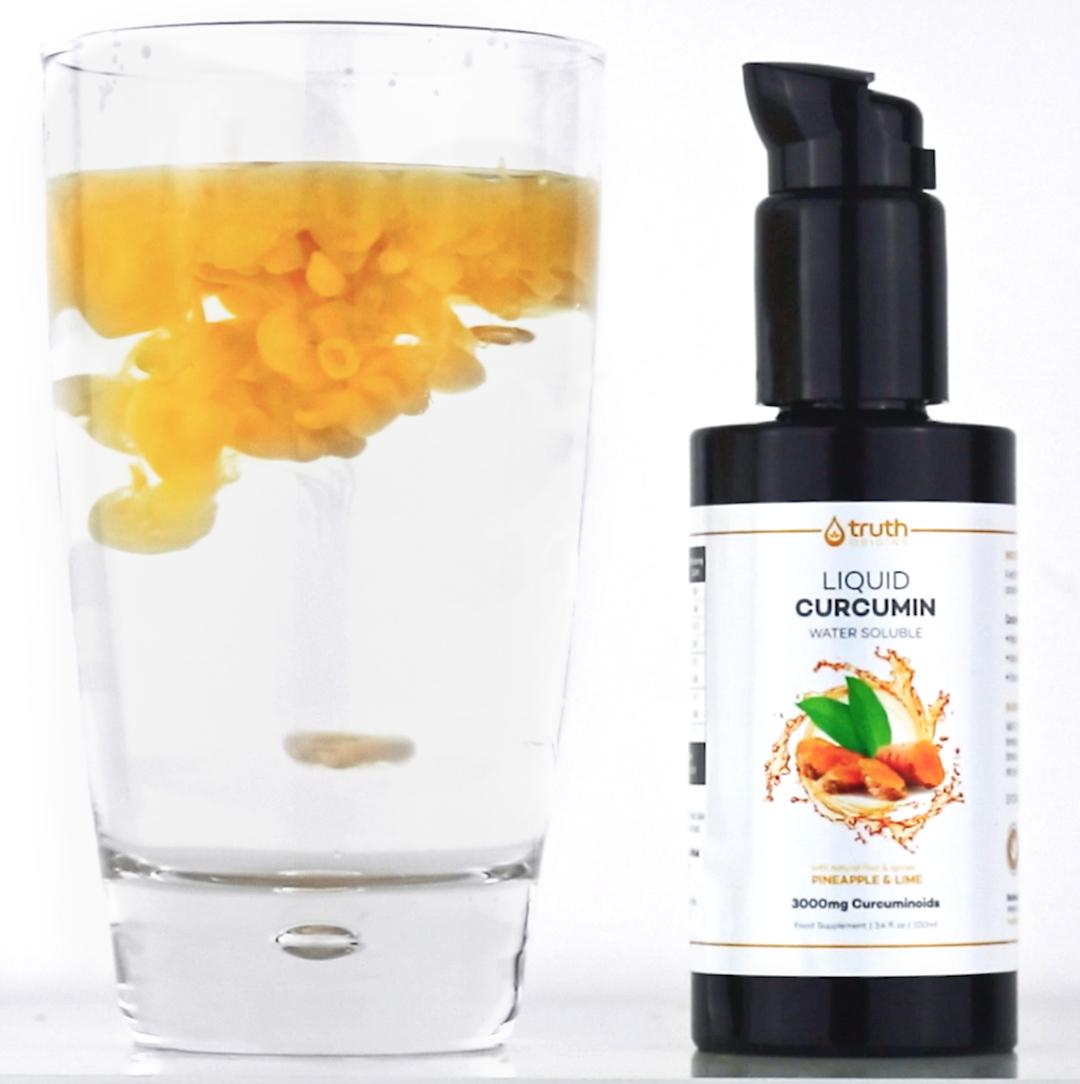 [14] Dosoky, N.S.; Setzer, W.N. Chemical Composition and Biological Activities of Essential Oils of CurcumaSpecies. Nutrients 2018, 10, 1196.
[15]Shoba G, Joy D, Joseph T, Majeed M, Rajendran R, Srinivas PS. Influence of piperine on the pharmacokinetics of curcumin in animals and human volunteers. Planta Med.1998 May;64(4):353-6. doi: 10.1055/s-2006-957450. PubMed PMID: 9619120.
[16]Pandit AP, Joshi SR, Dalal PS, Patole VC. Curcumin as a permeability enhancer enhanced the antihyperlipidemic activity of dietary green tea extract. BMC Complement Altern Med. 2019 Jun 13;19(1):129. doi: 10.1186/s12906-019-2545-1. PubMed PMID: 31196040; PubMed Central PMCID: PMC6567481.
[17]Chen N, Bezzina R, Hinch E, Lewandowski PA, Cameron-Smith D, Mathai ML, Jois M, Sinclair AJ, Begg DP, Wark JD, Weisinger HS, Weisinger RS. Green tea, black tea, and epigallocatechin modify body composition, improve glucose tolerance, and differentially alter metabolic gene expression in rats fed a high-fat diet. Nutr Res. 2009 Nov;29(11):784-93. doi: 10.1016/j.nutres.2009.10.003. PubMed PMID: 19932867.
[18]Jäger R, Lowery RP, Calvanese AV, Joy JM, Purpura M, Wilson JM. Comparative absorption of curcumin formulations. Nutr J. 2014 Jan 24;13:11. doi: 10.1186/1475-2891-13-11. PubMed PMID: 24461029; PubMed Central PMCID: PMC3918227.
[19]Hewlings SJ, Kalman DS. Curcumin: A Review of Its' Effects on Human Health. Foods. 2017 Oct 22;6(10):92. doi: 10.3390/foods6100092. PubMed PMID: 29065496; PubMed Central PMCID: PMC5664031.
[20]Guzman-Villanueva D, El-Sherbiny IM, Herrera-Ruiz D, Smyth HD. Design and in vitro evaluation of a new nano-microparticulate system for enhanced aqueous-phase solubility of curcumin. Biomed Res Int. 2013;2013:724763. 
Like these Articles? Stay up-to-date!

Join the Truth Origins club to stay up-to-date on our latest articles, blog posts, updates and exclusive discounts. You'll also receive
10% OFF

your first purchase for joining.


↓

TRUTH ORIGINS COMMUNITY
JOIN THE COMMUNITY & SAVE »
Dr. Harry has published in: