Introducing our Food Scientist...
Hannah Ratcliffe (B.Sc.)
- Interviewed by Lisa Horgan

Last week was International Day of Women & Girls in Science!
Against the backdrop of a global pandemic, the UN has identified negative impacts on women scientists, particularly affecting those at the early stages of their career, thus contributing to widening the existing gender gap in science and revealing the gender disparities in the scientific system. In fact, they reported that at present, less than 30% of researchers worldwide are women and that female students' enrolment is particularly low in natural science, mathematics, and statistics. The Gender Bias Without Borders study by the Geena Davis Institute in 2015 also showed that of the onscreen characters with an identifiable STEM job, only 12% were women. Which just goes to show, representation in media matters. So, in honour of the International Day of Women and Girls in Science, we are so excited to introduce you to our trailblazing Food Scientist, Hannah Ratcliffe (B.Sc.).
Hannah is at the forefront of creation at Truth, and with her skills, we have already been able to introduce innovative products like our newest formula, IMMUNITY (with many more in the pipeline!). So, without further ado, here is our powerhouse woman scientist, Hannah.
Hannah's Background:
Hannah obtained her degree at the School of Food Science and Nutrition at the University of Leeds and first worked in the food and beverage industry in 2014. Hannah has developed products for most of the UK supermarkets, ranging from sports drinks to frozen chocolate gateau, and has strong technical and food safety knowledge.
Have you always been interested in science? If so, why? If not, what changed?
Yeah, to be honest I've always had an inquisitive mind, as soon as I was able to speak I needed to know right away how everything worked! Science is relatable to everybody on some level, every day of our lives is impacted by science. If we were able to communicate to the most isolated community in the world, and try and talk about football, or politics, I don't expect much out of that chat. But science, lets talk about the sun coming up in the East, the smell of leaves and that feeling you get when you haven't eaten for a while, everyone can relate to that, right? Science is everything!

Did you know any women or girls in science growing up – in real life or on screen – that you feel may have inspired you or contributed in any way to your interest in the field?
No, none that I recall in particular. In high school, I was taught core sciences by a mixture of male and female teachers, but for Mathematics I don't recall ever being taught by a woman. After high school, I went to an all-girls sixth form and these girls were BIG on science. There wasn't one spare seat in Biology class! That's the time in my life when I really started to spend more time on the sciences, I absolutely loved it! Four out of my six teachers were women and my interest and everyday enjoyment of studying these subjects grew so much. After that, I was again surrounded by many STEM women as the majority of peers on my university course were females. Unfortunately, quite the opposite is true for Mathematics and Physics degrees.
When looking at the statistics that showcase such a low percentage of women and girls working and studying the Sciences, do you have any words of wisdom you could impart for future generations? Particularly for young girls who may be interested?
I don't see many female faces related to STEM on TV or popular media, and perhaps increasing the visibility of female scientists would increase the number of girls who choose to pursue science. I can think of only one woman, Dr Margaret Ebunoluwa Aderin-Pocock MBE, she is a British space scientist and science educator who has co-presented the Astronomy TV programme The Sky at Night. It's a shame that women and girls are underrepresented in positions in STEM at the moment, and there is absolutely no reason why that should be the case. Girls are born just as curious about the world as boys and are no less able to understand space or engineering! We need to do better to nurture this curiosity in girls and support females to pursue whatever career feels right.

What inspired you to get into this type of work?
I've been interested in FOOD since childhood, and originally I thought that I wanted to become a chef, then once I found out that such a thing as a School of Food Science and Nutrition existed I knew that was where I had to go. Around the same time a chef called Heston Blumenthal started appearing on British TV, an award-winning Michelin starred chef who had started to talk about the chemistry and interactions of food during cooking and molecular profiles of single ingredients – at this point, I'm sold. My degree course was a degree of two halves, there was the strong food science half, aka physics i.e. how you push custard of a certain temperature and viscosity along a production line, and the molecular structure of polyunsaturated fatty acids… And then there was the nutrition, the effect of food on the body, and public health interventions. It just felt right to me, I knew that I enjoyed these subjects, and I feel lucky that I have found a career doing quite a niche subject!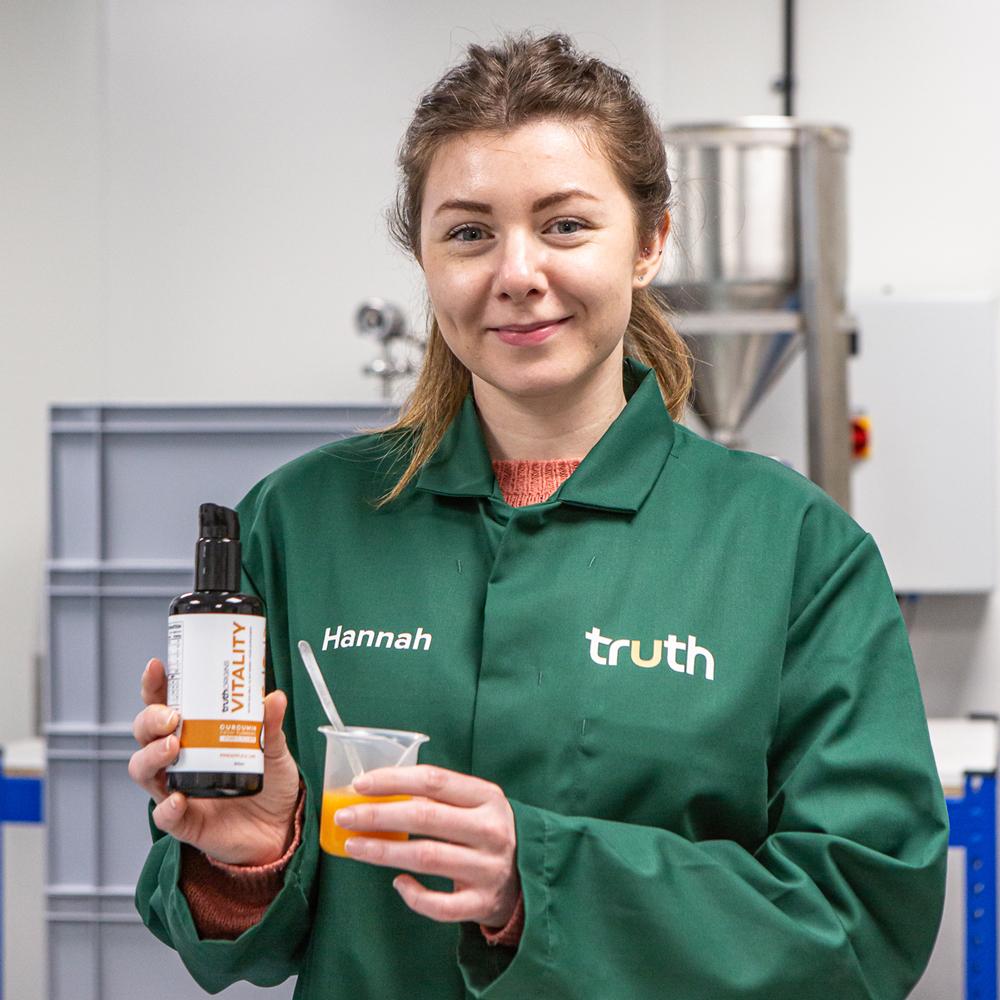 What do you do at Truth?
The part of my degree I most enjoyed was the effect of food compounds on the body at a chemical and cellular level. So that's what I do at Truth. We look at plant compounds which are in focus worldwide, we analyse the published work, and if we think the world needs to know about this compound then we come up with a product to deliver it to our consumers. It's really exciting to be discussing the latest research coming out of the medical field with Dr. Harry, and translating that into tangible products which really can (and do!) improve the lives of our TRUTH family.
What makes our new IMMUNITY blend different from all the other immunity products on the market right now?
Truth Origins IMMUNITY is unique in its formula and contains a strong combination of compounds that help to support the immune system. It is this powerful mix of plant compounds, delivered in a soluble liquid form, which I strongly believe will support you through any testing times. One serving of IMMUNITY delivers 100% NRV of Vitamin C, B12, E, and D3 (!) as well as plant compounds - echinacea and elderberry - which have been shown to have a positive effect on the immune system.
How did you decide upon what to put into this particular formula?

It was important that IMMUNITY was a product focused on maintaining the immune system first and foremost. Dr. Harry and I were looking specifically at the research published around vitamins and plant compounds which were known to be helpful during coughs and cold season, and those which were beginning to emerge across scientific publications for being linked with good immune health. The list of plant compounds was narrowed down based on the benefits we could bring to our customers, and of course the taste and performance of the product. After extensive testing, we brought IMMUNITY to the market and we hope you are as happy with it as we are.

What makes the Truth Origins supplements more superior to most other standard supplements currently on the market today?

It's simple - Truth Origins supplements are soluble and made by plants - there is nothing out there like it.

We're so proud to have such a smart and ambitious woman scientist like Hannah on our team and cannot wait to see what other creations she'll come up with in the lab!  And to all women and girls in science across the globe, we need you and we celebrate you.
Read our most recent blogs:
LIKE THESE ARTICLES?
STAY UP-TO-DATE
Join the Truth Origins club to stay up-to-date on our latest articles, blog posts, updates and exclusive discounts. You'll also receive 10% OFF your first purchase for joining.
↓