INTRODUCING OUR NEW TRUTH AMBASSADOR
MARK ORMROD ROYAL MARINES VETERAN, ATHLETE & MOTIVATIONAL SPEAKER

INTRODUCING OUR NEW TRUTH AMBASSADOR
MARK ORMROD ROYAL MARINES VETERAN, ATHLETE & MOTIVATIONAL SPEAKER
In celebration of Armed Forces Day, we sat down with our new Truth Ambassador to talk about our collaboration with REORG charity
Mark Ormrod MBE is a former Royal Marine, Invictus Games athlete, author, and motivational speaker. After triggering an improvised explosive device during a routine foot patrol in 2007, he suffered serious injuries becoming the UK's first triple amputee to survive the Afghanistan conflict.

How did your injuries change you as a person?
Before I lost my limbs I very much defined myself by my physicality, my performance in martial arts, and being a Marine. Everything about my identity was wrapped up in how strong I was, how fit I was, how much I could do physically, and not really anything to do with my mindset or my mentality so much. So in the beginning, when I first got injured I felt like everything that I had identified myself with was gone, taken away from me in an instant.

How do you even begin to recover from something like that?
I was asking all these other doctors, you know, "Can I still do martial arts? Can I still do kickboxing?" Cause I didn't have a clue about prosthetics. And they were all trying to manage my expectations, "Oh, we don't know, we'll see". This doctor walks in and he says to me, "Look, Mark, you're never going to walk again". He'd never met anyone with one leg missing above the knee that was a full-time prosthetics user because of the energy that it took to function wearing them. They were really hard to use, really painful, especially above the knee, they dig into your groin, they cut and all this kind of stuff, and then he just, he left.
Six days later, I got a visit off of a guy who lost both his legs above the knee who walked in to see me, and then I was like, "game on, this guy can do it so let's go!" Obviously, it was a massive learning curve, there were a lot of changes to get used to. I was six foot, two, 16 stone and I'd do a lot of weights. I'd eat everything, good stuff, but just a lot of it. Suddenly I'm in this wheelchair and I'm still eating the same things and now taking the pills and very quickly put in loads of weight on. So I had to change my entire lifestyle around. Diet, workouts, mindset...everything changed.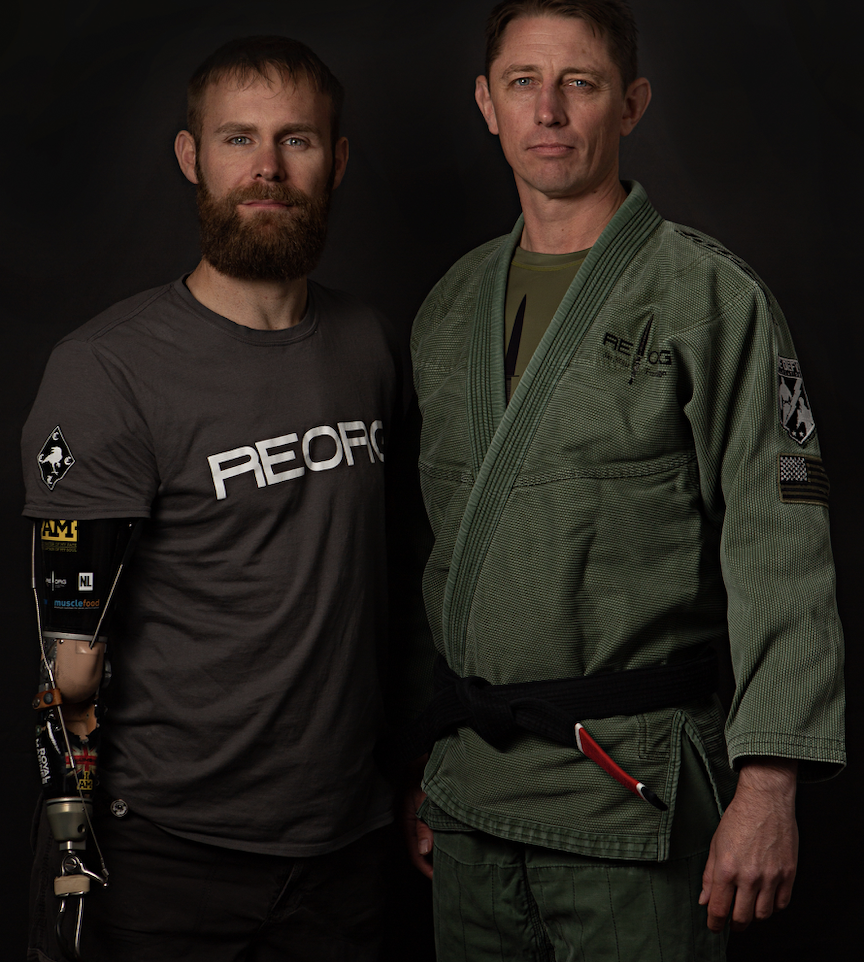 What is REORG and how did you find them?

REORG found me! I was on a military camp on the Royal Marines headquarters in the sergeant's mess when Royal Marines C/sgt Sam Sheriff approached and offered to train me in jujitsu. I just thought, oh, here we go, another guy, you know, offering me this out of pity, I'm not going to be able to do half the stuff they need me to do, but I didn't know what Brazilian jiu-jitsu was at that time. I didn't know the difference between this discipline and the one I was doing before I lost my limbs. 
I went down, I gave him the benefit of the doubt only because he was a Royal Marine. Well, you know what, he beat the shit out of me, for like an hour, like legitimately, and I was in pieces by the end of it.
It was exactly what I was searching for, that cardio hit, the adrenaline when you go for a long run and your heart and your lungs are challenged. As much as I hated it, I thought I'd lost that forever in my life. We started training and I soon realised that everything we did could be adapted to one arm or using my shoulder or using what's left. 
He showed me ways to choke people with a shoulder and to do all the modifications, all these moves, what everyone uses to suit me. The more I learned about jiu-jitsu, the more I understood that even the able-bodied athletes adapted what they did, there's kind of a set way to do certain things, but everyone modifies it and adapts and personalizes. 
What's the connection between Jujitsu and the Military?
People in the military have a unique bond because they go through shared hardships. They go through the training together, the highs and the lows, they go into combat together.

They see their friends wounded, sometimes killed. They share those experiences and it bonds them. And it's very similar in jujitsu. You go through shared hardships together you're learning, you're growing, you're trying to figure things out. You're getting your ass kicked every week, and you're all in it together developing these communities that have this shared passion. 

That's the intention behind REORG, to create this space for people to feel those feelings again, to connect with other like-minded people,  to give drive and purpose back to those who are suffering from the after-effects of physical and psychological trauma.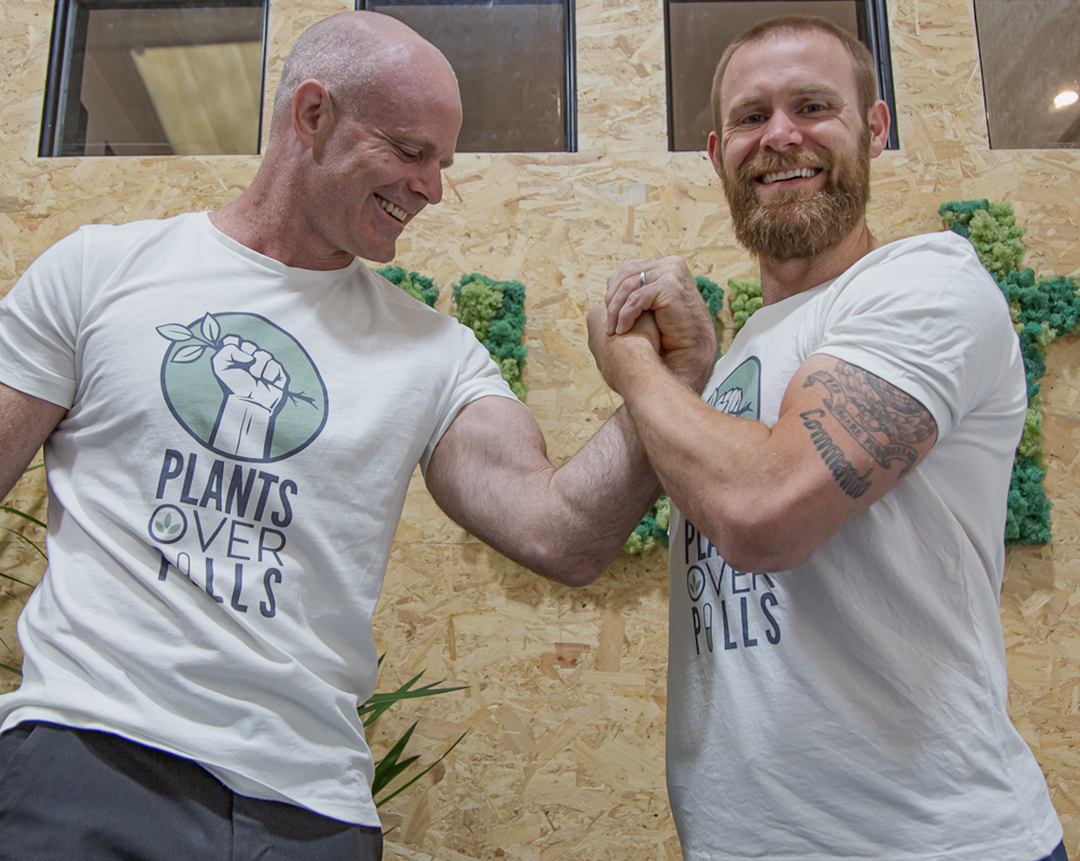 Why become an Ambassador for Truth?
I met Trent through REORG, as a fellow trustee and I use the Truth products every day so it just made sense. Truth is in alignment with my values, as I've never been a fan of medication, instead, I've always gone the natural remedy route.
I know that by taking the right supplements I'm taking care of myself proactively, managing my pain and discomfort. I plan to be independent and active for as long as I possibly can, I want to be still walking at 85 years old. For this reason, my whole thing now is about health and wellness, don't be too quick to grab the pill bottle and go for the artificial answer.

REORG is a registered charity based in England. CEO and Founder Sam Sheriff, (along with Trustees Mark Ormrod, Tom Hardy, and Trent Scanlen) 
As trustees for REORG Mark has recently completed an 1100 meter swim, raising 500k and Trent has pledged to donate £1 of every sale of Vitality Curcumin for the charity.
Read our most recent blogs:
LIKE THESE ARTICLES?
STAY UP-TO-DATE
Join the Truth Origins club to stay up-to-date on our latest articles, blog posts, updates and exclusive discounts. You'll also receive 10% OFF your first purchase for joining.
↓